Género: Grind/Melodic Death Metal

Carcasss es una banda proveniente del Reino Unido formada en 1986 que empezo como una banda de Grind Gore, y luego cambiaron a una de las primeras bandas de Melodic Death Metal.
La primera etapa de Carcass es muy Gore muy enfocada en lo grotesco, pero que aun así suenan bastante bien. Es muy entretenido mas si te pones a leer las letras de las canciones y te das cuenta la amplia imaginación que tenían en cuenta al Gore.
La siguiente etapa de Carcass es muy al estilo Death pero un poco mas pesado, añadiéndole mas distorsión, velocidad y una voz mucho mas rasgada y agresiva. Los Riffs son muy complejos, clásicos de este tipo de Metal, que le dan cierta tecnificación a toda la banda. Se utilizan constantemente solos y punteos en los Riffs añadiéndole cierto intro a las canciones. Las baterías son muy agresivas utilizando constantemente dobles bombos y platillos. La voz es muy rasgada con gritos largos que dan mucha atmósfera a las canciones.
La banda es muy buena si te gusta el buen Death Metal, es una discográfica que no puede faltar para todos los amantes del Metal extremo.
.:Reek Of Putrefaction:.
02. Regurgitation of Giblets
04. Pyosisified (rotten to the Gore)
05. Carbonized Eye Sockets
06. Frenzied Detruncation
13. Microwaved Uterogestation
14. Feast on Dismembered Carnage
19. Manifestation of Verrucose Urethra
20. Oxidised Razor Masticator
21. Mucopurulence Excretor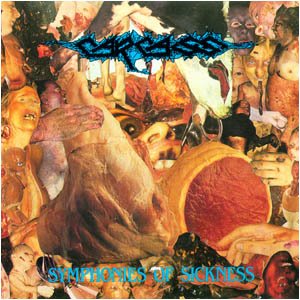 .:Symphonies Of Sickness:.
03. Excoriating Abdominal Emanation
04. Ruptured in Purulence
05. Empathological Necroticism
06. Embryonic Necropsy and Devourment
07. Swarming Vulgar Mass of Infected Virulency
08. Cadaveric Incubator of Endoparasites
10. Crepitating Bowel Erosion
02. Corporal Jigsore Quandary
03. Symposium of Sickness
05. Incarnated Solvent Abuse
07. Lavaging Expectorate of Lysergide Composition
08. Forensic Clinicism / The Sanguine Article
.:Heartwork:.
08. Blind Bleeding the Blind
.:Swangsong:.
01. Keep on Rotting in the Free World
02. Tomorrow Belongs to Nobody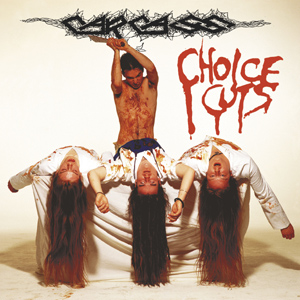 .:Choice Cuts - Recopilacion:.
4. Swarming Vulgar Mass of Infected Virulency
6. Corporal Jigsore Quandary
7. Incarnate Solvent Abuse
11. Keep on Rotting in the Free World
14 .Crepitating Bowel Erosion
16. Cadaveric Incubator of Endoparasites
18.Empathological Necroticism